Marketers are faced with an ever-growing list of responsibilities. From social media marketing to customer experience and advertising, it can be a challenge to stay on top of everything.
The 5 top social media tools to try in 2020
Here are some of the most-used social media tools used by some of the world's top brands:
1. BuzzSumo
Website: https://buzzsumo.com/
Pricing: Plans start at $79/month
Details:
BuzzSumo is a tool that lets you find the most shared content and trending influencers. You can use it to analyze which content performs best for any topic and all you need to do to get started is to search for a topic or a domain.
Through BuzzSumo you're able all gather a better understanding of your impact on social media and develop smarter content strategies by seeing which of your own pages were engaged with the most. BuzzSumo will break the results down by Facebook, Twitter, Pinterest, and Reddit shares.
This provides the added benefit of being able to see which articles are performing well across the web without having to constantly monitor multiple social channels.
Similar tools: Ahrefs, Meltwater, Mention
2. Google Trends
Website: https://trends.google.com/trends/
Pricing: Free
Details:
Google Trends is a completely free tool that Google created to help anyone search for trending topics online.
Brands use it to monitor notable things that are happening in the world. Many professionals use this as a way to discover and share information related to what's most popular right now.
You can also use Google Trends to monitor keywords to see if they are trending and how their current volume compares to previous months and years. You can then use this information to inform your content and social media marketing strategy.
Similar tools: Ubersuggest, Ahrefs, WordStream
3. Buffer Publish
Website: https://buffer.com/
Pricing: Free (paid plans start at $15/month)
Details:
Buffer is a suite of brand building tools designed to make it easy for businesses and marketing teams to schedule social media posts, analyze performance, and manage all their accounts in one place.
For example, Buffer Publish allows you to set up a schedule for your social media profiles, and after you add content to your Buffer queue, it will publish at the times you've designated.
In addition to our web application, we also have both Android and iOS apps as well as a fantastic Chrome Extension that's great for Buffering while you're browsing the web or on the go.
Similar tools: Hootsuite, Falcon.io, Sprout Social
4. Canva
Website: https://www.canva.com/
Pricing: Free (Canva for Work starts at $12.95/month)
Details:
Another fantastic tool that absolutely every brand or business online should know about is Canva.
Many times social media managers and marketers need to be able to create beautiful images without a designer. It's what makes up part of a great social media strategy.
Canva is the tool so many marketers rely on for making great-looking social media images quickly. You can use the ready-made templates, icons, and illustrations to make your images look professional without having to do much of the actual design work.
Canva has an easy to use drag-and-drop interface plus a massive library of over two million graphic elements.
Similar tools: Crello, Buffer Stories Creator, Bannersnack
9. Native Analytics
We would be remiss if we didn't mention native analytics for each social platform, which is completely free.
(If you prefer something more advanced, we would love for you to try Buffer Analyze, our social media analytics and reporting tool!)
Let's quickly go over the top three, Facebook, Instagram, and Twitter.
Facebooks Analytics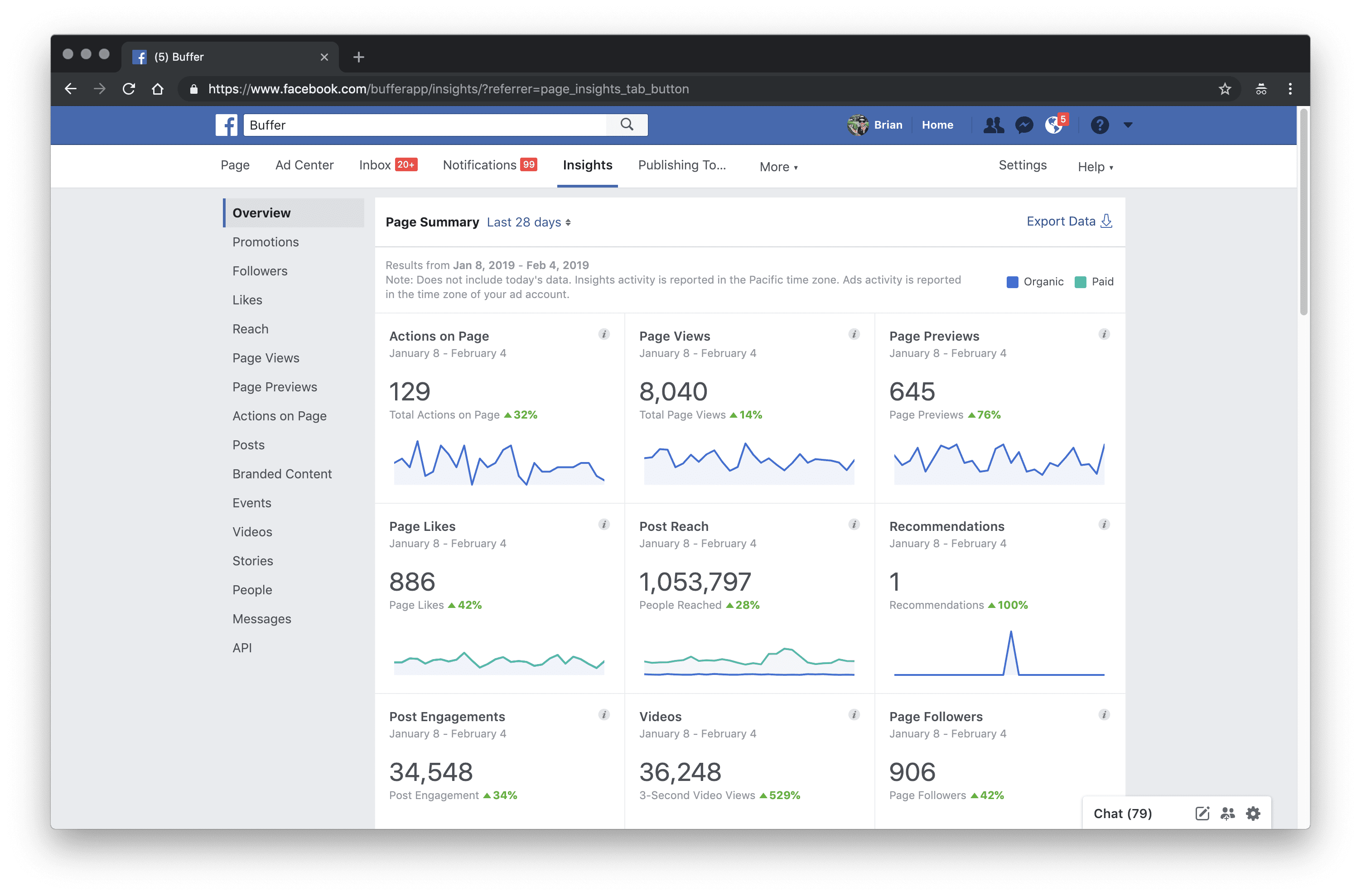 Under the Insights tab on your Facebook Page, there is just so much information. Everything you ever wanted to know about your engagement, number of likes and followers, how your posts are doing, and, of course, Facebook's Pages to Watch which lets you compare the performance of your Page and posts with similar Pages on Facebook.
You also get insights for Facebook Groups so if you run a Group definitely check those out.
Instagram Analytics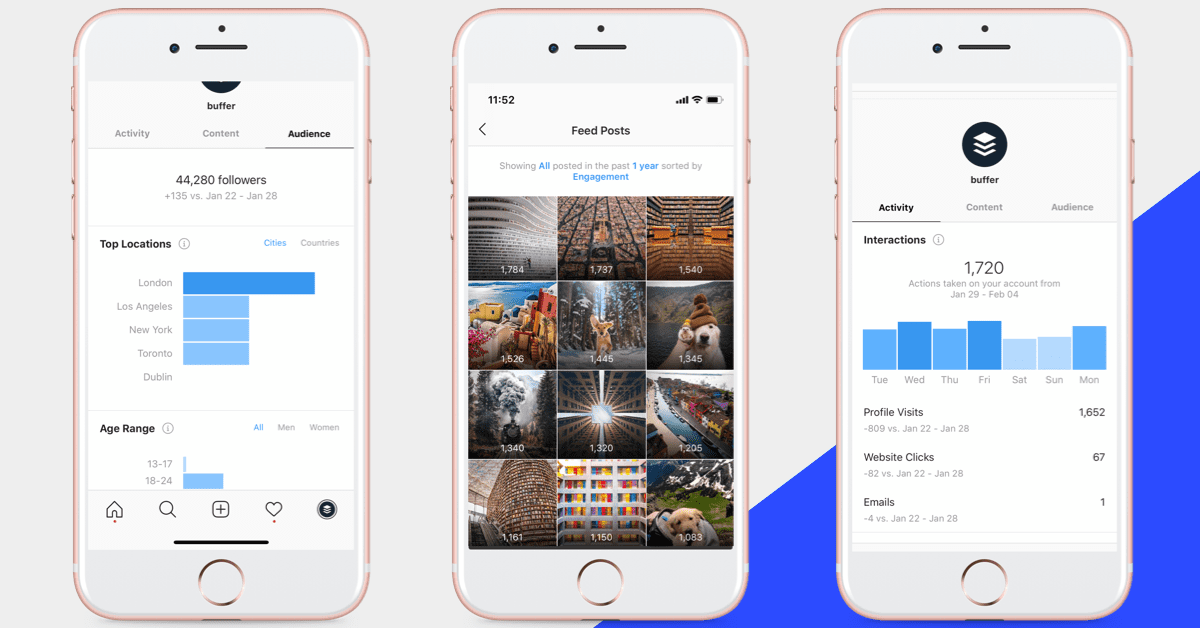 With Instagram Insights, you can see activity around how frequently users interact with your posts, see how your posts are performing over time, and find out where your audience is from as well as their age range, gender, and when they are online.
Twitter Analytics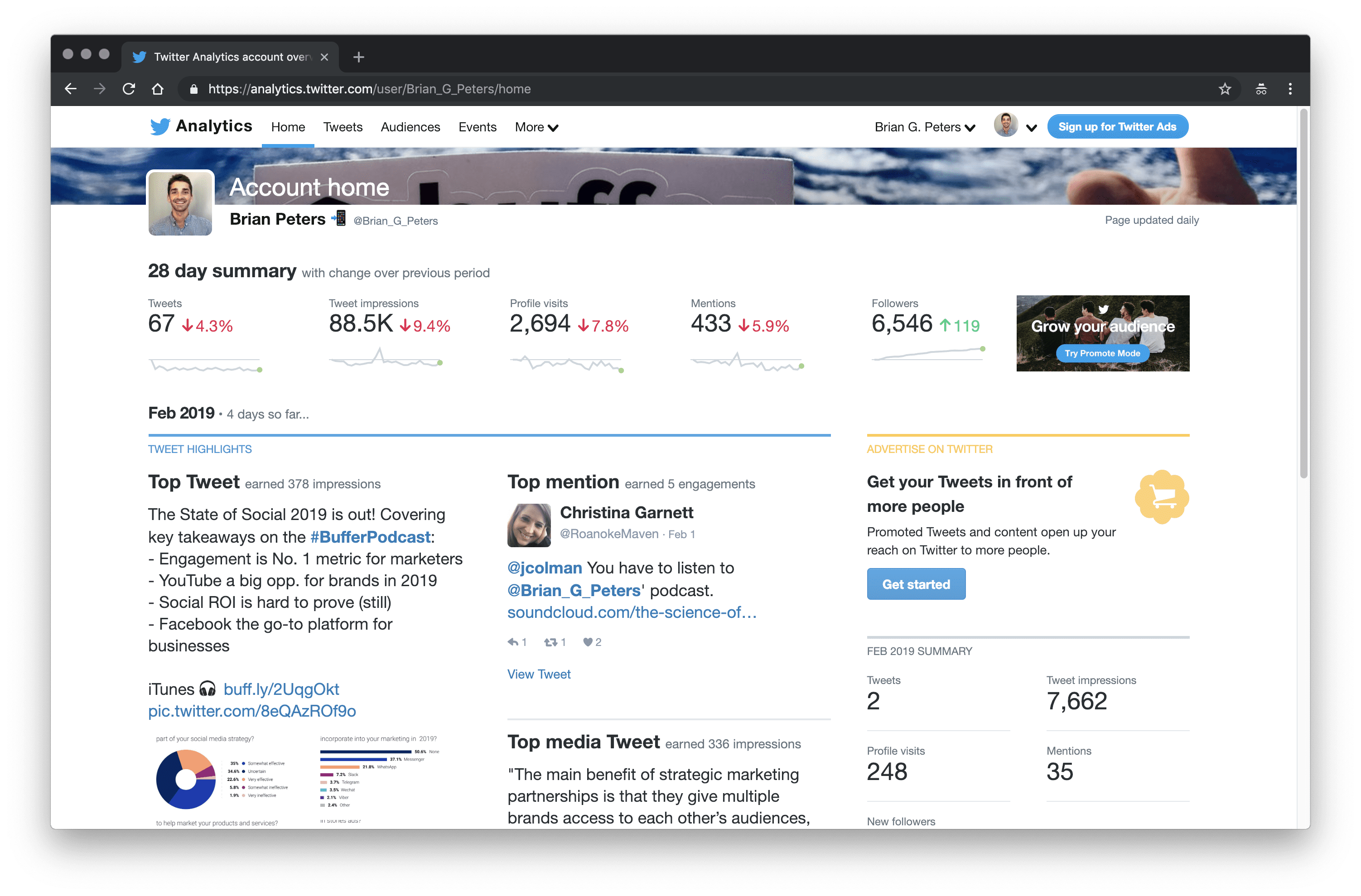 Starting with Twitter, their analytics can reveal a lot of valuable data about your audience, how well you're engaging your following, and what your top-performing content is.
All you have to do is go to analytics.twitter.com to log in and start learning more